A HISTORY
OF THE LOVE OF APPALOOSA HORSES
by Jeannine & J. N. Prather, Jr.
and
Elizabeth & Pete Poiencot
In 1952 in Houston, Texas, Clarence Barnes, his brother-in-law Tom Ruland, his good friend J. D. High, and a few other Appaloosa supporters formed the Texas Appaloosa Horse Club. Clarence loved to breed, raise and show Appaloosa horses. One of his favorite's was his champion gelding, Ta To Ka (T-1225). Clarence and his gelding are pictured center here at a show in Goliad, Texas in 1957 after winning Grand Champion Gelding.
In 1953, Clarence and Jeanette Barnes had a daughter, Jeannine. From birth Jeannine was involved with the Appaloosas. Her first mare was One-Eye-Geronimo's Lady Fair (ApHC #16,943) who is pictured here with Jeannine at the Houston Appaloosa Horse Show in 1963.
Next, Jeannine raised and showed Jeannine's Little Lady out of One-Eye-Geronimo's Lady Fair, by Kinglike Spots (ApHC #37,094) who is by the thoroughbred stud Kinglike (TB #10740). As yearling Little Lady placed first in her halter class at the San Antonio Livestock Show and the Houston Livestock Show. Jeannine and Little Lady are pictured here at the Houston Show in 1968.
After that, Jeannine raised an Appaloosa race horse, Rollady (ApHC T-184,375) out of Jeannine's Little Lady, by the Quarter horse race stud Bar Roller (AQHA #303,739) who is a son of Three Bars (TB). Rollady is pictured here winning the Texas Appaloosa Futurity in 1975
Jeannine moved to Louisiana and met J. N. Prather, Jr. Jay's family also had a history in the Appaloosa business. Jay's uncle and godfather, Aaron Moreau was very active in the Louisiana Appaloosa Horse Club during the 1950's and 1960's. He raised and showed many great Appaloosas. Aaron Moreau sold some of the Appaloosas he raised to country music stars Jimmy C. Newman and Loretta Lynn. Some of the horses he sold Loretta can be seen in her movie "Coal Miner's Daughter". Aaron is pictured below with his stallion, Cinco's Sitting Bull (#F-3240).
Aaron's daughter, Jackie, is pictured here with Cinco's Sitting Bull. In the photo on the right, Jackie is shown receiving the Grand Champion Stallion ribbon & trophy from Mr. Howard Poor, at LSU in Baton Rouge, Louisiana in 1965.
Cinco's Sitting Bull was the sire of Jay's first Appaloosa stud, Chief Thunder P. (ApHC T-248,304), pictured below.
Shortly after they were married, Jay and Jeannine purchased a nice, well bred stud colt from J. D. High, a well known Appaloosa breeder and founding member of the Texas Appaloosa Horse Club. The Cajun Prince (ApHC #265,314) was out of High Belle Bar (ApHC #156.211) and by Prince Carl (ApHC #83,939) who is by Prince Plaudit. The Cajun Prince is pictured here as a yearling at the Louisiana Appaloosa Horse Club show at LSU in Baton Rouge, Louisiana in 1979.
In 1980, Jay purchased one of his favorites, Sir Nugget Jim (ApHC T-329514) who was out of High Spy (ApHC T-199146), by Sir Nugget James (ApHC #276469). Jim was a very well rounded horse, who excelled at roping. He qualified and was shown at the 1983 Appaloosa World Show in Oklahoma City, Oklahoma. Here are a few pictures of Jim.
During the 1980's, J. N. Prather, Jr. was President of the Louisiana Appaloosa Horse Club for several years. Around the same time, Jay and Jeannine had a daughter, Elizabeth, and a son, Nathan, who also enjoyed the horses. Jay and Jeannine acquired Totally Tough (ApHC #408800) to train for their children to ride. Tough was also shown in halter, and is pictured here with Irvin Bell at the LSU Appaloosa Cajun Classic Horse Show in 1986.
Elizabeth was crowned the Louisiana Appaloosa Queen in 1987 and is shown here on Totally Tough, along with her father J. N. Prather, Jr. and longtime Appaloosa horse club director and lifelong family friend of Jeannine Prather, Roy Young.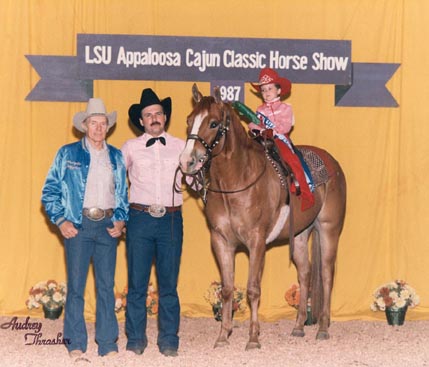 | | |
| --- | --- |
| Nathan also rode Totally Tough in leadline classes. | |
A few more pictures of Liz and Nathan:
For the next few years, Jay and Jeannine were busy raising their family and finding new hobbies, and were out of the horse business for a while. Here are a few pictures of some of their other hobbies.
In January 2002, Elizabeth Prather met Pete Poiencot. Pete was also raised around Appaloosas. In 2003, Pete purchased his stud colt Sure Colours (ApHC #612634), who is out of Sure Folly (ApHC # N539391) and by Mr. Bar Finder (ApHC # 551893), who is by Dreamfinder (ApHC #407333). Pete brought his stud colt to the Prather home to live. Pete and Liz were married in 2004. Pete and his father-in-law, J. N. Prather, Jr., have acquired a few mares to start up this new breeding program in Carencro, Louisiana - Double J Appaloosas.

Pictured are Pete's father, Joe Poiencot with his Appaloosa filly, Dawn and Pete's Uncle Leslie Parrish riding War Cloud.
While looking through old photo albums, we came across some pictures of Dr. George Gayle with his two stud horses - Mighty Bright Again and Mighty Gay Bar GG. The Barnes and Gayles were close friends, having shown horses together over the years in Texas. Whenever Jeannine and Jay would visit her parents, they would always spend time with Dr. & Mrs. Gayle admiring their many great Appaloosas. Dr. Gayle especially liked to show off his newest foals.
We would like to thank you for taking the time to read about our history. Please visit the rest of our web site to read about our present and future.
Go to top